Cutting Edge Serger Techniques

Cutting Edge Serger Techniques



Out of Stock
Lucky Spools Scraps Inc Vol 1

Lucky Spools Scraps Inc Vol 1



Out of Stock
LUCKY SPOOLS SCRAPS INC VOL II
Modern Holiday

Modern Holiday


One Wonderful Curve

One Wonderful Curve


Quilted Celebrations

Quilted Celebrations


ULTIMATE GUIDE TO MACHINE QUILTING
Out of Stock
100 Modern Quilt Block Tula Pink's City Sampler

Quilt along with Tula Pink to make 100 modern, city-inspired quilt blocks. Then use them to make any of the 3 quilts in the book, or make up your very own setting.


All Things Quilting

From first step to last stitch, learn to quilt the Alex Anderson way!



Out of Stock
Appli-Doodle

Add a little bit of Donna's applique fun to your everyday. Give an apron pizzazz, a pillow some punch, and make placemats a little groovy. Donna's goal was to create one of-a-kind projects for the home with her fun and forgiving applique.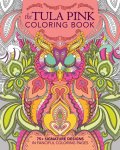 Tula Pink Coloring Book

Tula Pink Coloring Book



Out of Stock